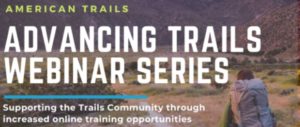 American Trails brings agencies, trailbuilders, advocates, and volunteers the latest in state-of-the-art information on all aspects of trails and greenways. Alta is looking forward to being part of the America Trails webinar series this August. Register for the webinar here.
Session Information:
Trail Analytics and Data Storytelling
August 6, 2020 | 10-11:30am PST
This webinar will share a spectrum of data analysis and scenario planning tools that can be used to help plan and design new or existing trails.
Presented by Emily Duchon with Alta Planning + Design, Deven Young with Alta Planning + Design, Lauren Cencic with Countywide Planning & Development, Mobility Corridors, LA Metro, and Mike Sellinger with Alta Planning + Design