We'll be gathering in Jacksonville April 1-4 for the 2020 Southeast Greenways & Trails Summit. Working with local, state, and national partners, the nonprofit East Coast Greenway Alliance seeks to transform the Southeast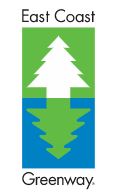 into a model of healthy, sustainable living. Professionals from many fields — planning, recreation, public health, transportation, and community development — will share best practices, strengthen networks, and influence trail and greenway development in the Southeast region.
The event will feature workshops by high-caliber presenters, insightful plenary and keynotes, ample networking time, and several outdoor events with visits to inspiring stretches of the East Coast Greenway and other exemplary projects around Jacksonville. Here's where to find us.
Session Information:
Friday, April 3
10:45-11:45 AM
Roundtable: West Ashley Greenway & Maryville Bikeway: Implementation and Equity Challenges for Charleston's Premier Trail System
Presenter: Daniel Ashworth, Jr.
1:15-2:15 PM
Workshop: Emerging Technology = Emerging Trail Users: How EBikes and Electric and Autonomous Vehicles are Effecting Trail Development
Presenter: Brad Davis