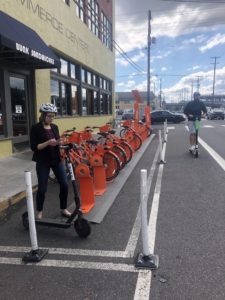 The newest trends in mobility are small, cheap, nimble, and shared.  What does the rise of micro-mobility mean for your community? Dockless bike share and scooter share have proven the broad appeal of point-to-point shared mobility and are influencing people's travel choices. On Thursday, September 20th, join Alta Planning + Design as we host a discussion on the promise and the pitfalls of micro-mobility.  You will hear from two cities tackling the opportunity head-on: Aurora, Colorado which was one of the first dockless bike share permitting programs in the country and St. Louis, MO which enacted a permitting policy that includes a social equity component. This free, public webinar will be informative for communities developing solutions to leverage the benefits of new mobility and mitigate the challenges.
Date: Thursday, September 20
Time: 9am-10am PDT (12pm-1pm EDT)
Submit Questions here: If you have any questions in advance of the presentation, please submit them here so we can incorporate the answers.
Panelists:
Jean Crowther, Senior Associate, New Mobility Service Leader, Alta Planning + Design
Phil Goff, Senior Associate, Bike Share Service Leader, Alta Planning + Design
Liza

 Farr,
Associate Project Manager, Bi-State Development,
St. Louis, MO
Liza will share how St. Louis developed their bike share and scooter share permits though a working group and their social equity component.
Brenden Paradies, Planner, City of Aurora, CO
Brenden will discuss the creation of Aurora's dockless bike share permitting program and the subsequent experience working with private mobility providers and evaluating the program's success.
*If you cannot make the program but are interested, please pre-register and we will send you a link to the recording.