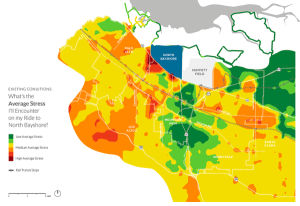 Silicon Valley Bicycle Coalition and Alta Planning + Design have partnered with Google to create the Google Bike Vision Plan, a new look at what it's like for people riding bikes in northern Santa Clara County today and what our region could look like with 8-to-80 bike networks.
As you'll read in the Plan, Google is committed to reducing single-occupancy vehicle trips and encouraging healthy transportation options for their employees. But beyond their employees, Google understands and appreciates the myriad societal benefits that come with more people riding bikes in their communities. Google envisions a place where anyone from ages 8 to 80 can ride a bike safely and comfortably. But what does it take to create such a place?
Too often lines on a bike map can't tell you what the experience is like for a resident trying out a bike route for the first time – we need to start thinking differently about bicycling if we are going to meet people's needs. The Google Bike Vision Plan goes beyond the lines on the map and measures the stress a person biking encounters when trying to get to their destination on the best route possible. The Google Bike Vision Plan also shows the impacts on the region that an 8-to-80 bike network could have for employers and residents alike.