Moving People Forward is Bicycle Colorado's annual event that brings together thought leaders, innovators, decision makers, business leaders and stakeholders to explore the trends, topics, and technology at the forefront of the mobility revolution. This year's conference will be a series of virtual sessions from February 9-18, 2021.
Session Information:
Undoing systemic racism through equitable planning
Thursday, February 18, 9-10:30 a.m. MST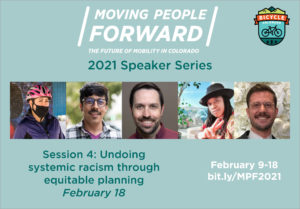 "Community engagement" has long been a required component of the planning process, but it continues to be a siloed effort and is rarely implemented in an equitable way. The City of Oakland, however, has flipped that paradigm to make communities, particularly low-income people and people of color, the foundation of their updated 2019 Let's Bike Oakland bike plan with the goals of Access, Health and Safety, Affordability and Collaboration. Join us to learn who enabled this shift to happen and how Oakland's most under-resourced communities have guided the plan and will be supported with critical community-wide investments in bicycling beyond solely infrastructure. We'll also be joined by the City of Fort Collins to reflect on their learnings from the plan, the future of equitable transportation planning in Fort Collins and how transportation professionals in Colorado can help undo systemic racism.
Storyteller: Julia Burciaga, Co-Founder, Montbello en Bici
Moderator: Mo McCanna, Education and Safety Director, Bicycle Colorado
Speakers: Manuel Corona, Transportation Planner, Oakland Department of Transportation,
Jeff Knowles, Alta Planning + Design, Inc., Oakland, CA,
Marquita Price, Director of Urban and Regional Planning, The East Oakland Collective,
Nick Heimann, Active Modes Specialist, City of Fort Collins