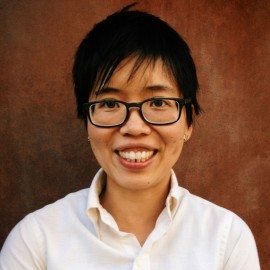 I remember when I first started commuting to work by bike. I never felt completely comfortable or safe until I moved to Portland in 2005, where well-planned infrastructure and a bike-friendly community made getting around much more enjoyable (and fun)! At Alta, I have the opportunity to participate in projects that create the same positive experience for other people. I love that I can contribute to building healthy and active communities through visual communication such as branding, print and web design.

I admire the significance of Alta's work, and I'm grateful to be part of a team helping to create better and safer spaces for walking and bicycling.
Biography
Cat Cheng is a graphic designer with 15 years of experience in print and brand identity. Before joining Alta, she developed several bicycle and pedestrian advocacy-related campaigns and projects, including branding and print for Safe Routes to School programs, map design and production for the Cities of Portland and Vancouver, print and signage for SMART (Wilsonville, Oregon's public transportation system), and print and web design for organizations such as the Community Cycling Center, Bicycle Transportation Alliance, and Oregon Walks.
"… Cat's expertise in graphic representation of complex data in the [Broadway Dress Rehearsal] report raised the bar for future reports, and helped set the direction for the quality and structure of our materials to come. She brought our data to life with her easy-to-understand graphic elements, and made the report more appealing to a broad audience. Cat's fantastic touch on this groundbreaking work product for our department will continue to inspire future teams that assemble similar reports into the future."
— Valerie Watson, Transportation Planning Associate II, Active Transportation, LADOT