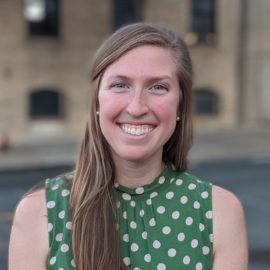 Erin Daly Davenport, AICP
I believe that transportation is not just about getting from Point A to Point B, but a way to engage with the people and places that make our communities thrive. I believe that everyone should have access to safe, healthy, and empowering modes of transportation that do more than just move us, and actively make our lives better.
Biography
Erin has a background in active transportation planning and advocacy. After starting her career in D.C., Erin has worked and volunteered in Minneapolis and Seattle on a range of active transportation, transit, and long-range transportation plans. She is experienced in GIS, Vision Zero crash analysis, and helping communities turn their stories into plans. Erin is driven to help make planning for tomorrow a more equitable process than what was used to plan for today.

Erin has a Masters in Urban and Regional Planning from the University of Minnesota and a Bachelors in Geography and Environmental Studies from Macalester College.