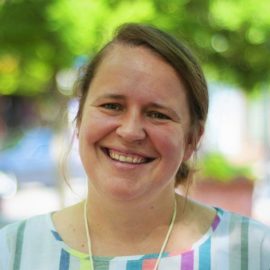 Confucius once said: "Choose a job you love, and you will never have to work a day in your life." I love helping people reinvent the way they think about transportation! I believe it's not only about the movement of people and goods, but also the experience. Transportation choices are very personal, what works for some won't work for others.

I enjoy working with clients to create livable communities where people can choose their own transportation experience—walking, biking, riding a bus or driving a car!
Biography
Jennifer has over twelve years of multimodal transportation planning experience in the public sector. Having managed bicycle and pedestrian programs at both the state and local level, she brings a unique perspective to comprehensive master planning, public outreach, and project implementation. Her expertise includes Safe Routes to School programming, Transportation Demand Management (TDM) initiatives, as well as planning, funding, and reviewing the design of bicycle, pedestrian, greenway, roadway, and streetscape projects. Her collaborative communication style, combined with strong public speaking skills, results in effective project management and public engagement.