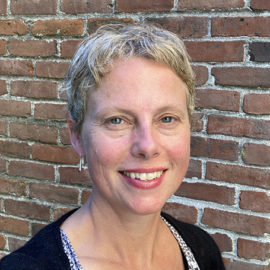 I have been so fortunate to build a career around my passion for revitalization of cities and active transportation, the most basic building block to healthy communities. Over the years I have lived and worked in Colorado, Oregon, and on the east coast. I enjoy learning about new places, love exploring and getting around by bike, and helping empower people to change the design of their communities.
Biography
A keen observer of the built environment, Katie Mangle has been shaping smart, effective and local solutions for neighborhoods and cities for the past 18 years. Her work has consistently demonstrated how active transportation systems support healthy lifestyles.


Katie leads the planning and design professionals in the Portland office. Her experience in the public and private sectors includes work on behalf of state departments of transportation, transit agencies, and small cities, most recently as a lead planner for the City of Wilsonville, OR. Her work combines strengths in project management, multimodal transportation planning, urban design and land use planning, and capital project development. Katie's specialties include complete streets design, multimodal corridor studies, transportation system planning, drafting public policy and zoning code, public involvement strategy and facilitation, transit planning and design, development planning and permitting, and NEPA analysis.