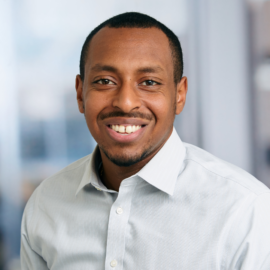 Markos Legesse, PE, ENV SP
I really enjoy working on alternate modes of transportation. Growing up in Los Angeles, the only way to really get around was in a car. Cars not only clogged up all the roads, they were the priority for most infrastructure improvements. I look forward to the next generation of Angelinos having options in the way they move around the city and I am certainly glad to play a role in this change.
Biography
Markos has over six years of diversified engineering experience that has provided him with a rooted understanding of both the public and private sector. Markos has worked on a wide array of projects that include roadway rehabs, active transportation projects, complete streets projects, roadway widening projects, ADA and pedestrian improvements and more. Markos received a B.S. from Loyola Marymount University in Civil Engineering and an M.S. from University of Southern California in Civil Engineering, with a Structural Engineering emphasis.