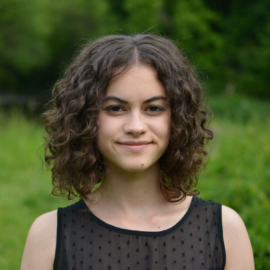 Nataliya Pekar, P.Eng.
Associate Engineer I

Based In

Toronto
I love transportation because of its connection to people's lived experience with movement. As I walk, cycle, and take transit, I find myself considering the day to day of all kinds of commuters and how the design of our systems influences who gets access and who does not. As a designer, I take pride in re-imagining infrastructure to create more equitable and sustainable networks for everyone.
Biography
Nataliya has a Bachelor's of Applied Science in Civil Engineering with a specialization in transportation and a critical lens for equity, sustainability, and inclusive design. Nataliya has previously worked for the City of Toronto in their Pedestrian Projects Unit where she supported design, analysis, and policy work on a variety of portfolios such as road safety and accessibility. At the Ministry of Transportation, Nataliya performed contract administration and inspection for design and construction projects where she successfully managed conflict and steered projects towards completion. With experience in project management, Nataliya is a strong communicator with the ability to maintain acute focus on details without losing sight of the big picture.