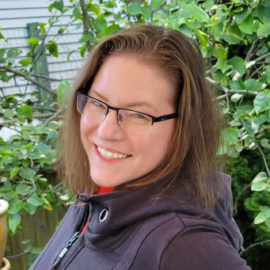 Penelope St John, PLA, LEED AP BD+C, Greenroads STP Level 2
I am avid cyclist who loves living in a walkable, vibrant neighborhood. I wish to bring that to the world! I am passionate about providing quality infrastructure for all forms of active transportation as well as tackling transportation equity issues. Get on your bikes and ride!
Biography
Penelope St. John possesses in-depth experience as a project manager, landscape architect, planner, and urban designer. Her work has included a wide range of transportation-related projects. This includes working in every phase of land development – project pursuit, marketing, interviews, contract negotiation, workforce allocation, workload allocation, budget management, due diligence, preliminary design, public outreach, construction documents, permitting, construction administration, and project closeout. Having worked as a project manager for civil engineering, urban design, land use planning, and landscape architecture projects for multidisciplinary firms, she is very comfortable working in a team-oriented, collaborative environment. Her unique and varied skillset means she is an effective project manager and can work effectively with every discipline.