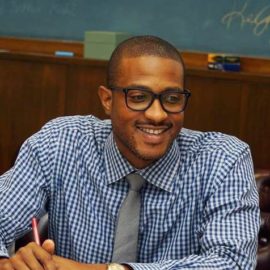 Vincent B Hellens Jr, ENV SP, QSD/P
At a young age I was inspired to pursue a career in civil engineering after many years of driving over the Vincent Thomas Bridge near the Port of Los Angeles. I wanted to pursue a career that would give me the opportunity to design and build infrastructure like that, projects that would have a lasting impact on the community and people's lives. My favorite projects are complete streets projects, which encourage use by pedestrians, bike riders, transit riders, and drivers alike so everyone can get around their community. I love and value projects that serve the public!
Biography
Vincent has over 15 years of experience managing and designing large and small public works infrastructure projects from planning, design, and construction. His project management approach involves focusing on the needs of his clients while staying flexible and adaptable through the life of the project. His specialty is public works engineering that incorporates sustainable design practices. He has provided transportation design services for local municipalities and state agencies throughout Los Angeles County, Orange County, Alabama, and Mississippi. He has delivered pedestrian ADA improvements, Complete Streets, active transportation/ safe routes to schools, trail designs, a variety of bicycle improvements, roadway widenings, and roadway rehabilitation/ reconstruction improvements. Vincent is familiar with many roadway design guidelines, such as the Standard Plans/Specifications for Public Works Construction (SPPWC) Green Book, the AASHTO Roadway Construction Standards, the National Association of City Transportation Official (NACTO) Urban Bikeway Design Guide, the Federal Highway Administration's (FHWA) Manual of Traffic Control Devices (MUTCD), as well as other local, state, and federal publications.