Alta Planning + Design provided pro bono design services for two traffic gardens for Cascade Bicycle Club's Major Taylor Project. The Major Taylor Project provides a year-round youth development cycling program focused on introducing youth from diverse communities to bicycling, healthy living, bicycle maintenance, road safety awareness and the importance of working toward individual goals.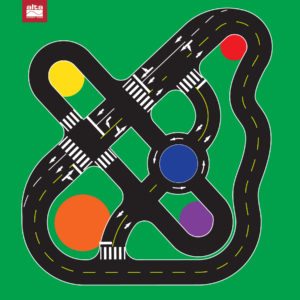 Inspired by Copenhagen's Trafiklegepladsen (traffic playground), the traffic gardens give parents and cycling instructors safe places to teach children and adults the basics of riding a bicycle. These purpose-built places are designed for teaching road safety awareness modeled on the League Cycling Instructor curriculum developed by the League of American Bicyclists.
The traffic garden in White Center re-purposed an abandoned tennis court with a miniature street pattern specially adapted to the curriculum and provides a riding circuit that demonstrates a variety of roadway scenarios. Instructors can build from basic learn-to-ride skills through bike handling and braking practice, familiarity with roadway marking and signing, and skills related to operating a bicycle in and adjacent to traffic.
Large colored dots provide orientation, destinations and meeting places for classes.









A storage shelter protects bicycles used in the organized teaching program. Benches and bike racks support the families that participate, and a partial fence helps corral young visitors.



The White Center Traffic Garden has captured the imaginations of people across the US as a cost-effective way to activate an under-appreciated space, provide a safe, thoughtfully designed teaching environment, and provide a drop-in place for people to use on their own. For more information please contact Steve Durrant, FASLA, Vice President, Alta Planning + Design at stevedurrant@altago.com
As seen in:
Next City, Fast Company, Seattle Bike Blog, and Bike Portland.