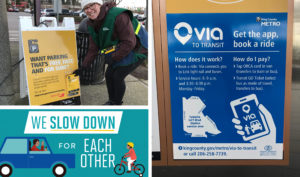 Media campaigns need to reach the right people, with the right message, through the right channels. Alta creates effective multichannel media campaigns for public agencies, helping the public walk, bike, and take transit more often, and more safely.
Media campaigns are an important tool to reach and influence the public. Alta creates, delivers, and evaluates media campaigns around North America. Whether we're educating drivers about school zone laws; nudging people to return to transit as the world emerges from lockdowns; promoting frequent transit service to folks who live and work along the route, or much more – Alta knows how to help you reach your audience.
We work closely with media buyers to use traditional and social/digital channels, including in-language specialty media to reach multilingual audiences. Social and digital media tactics are constantly changing, and you can count on us to walk you through targeting, retargeting, and conversion tactics that stretch your budget and reach the right people.