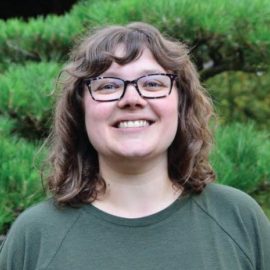 I've always been known by friends and family as a transportation geek, but since giving up my car in 2005, walking and bicycling have become a fundamental way of life and a passionate professional endeavor. It's enlivening to experience the world around me every day by being a part of it, not from behind a windshield and a big hunk of metal.

As a planner, it's not surprising that I love cities. But what I love most about cities – and what I think makes them thrive – is the human interaction, the cultural and intellectual exchange that occurs from people being face to face, walking and bicycling through the bustling city.
Biography
Through education, encouragement, and marketing, Cathy is dedicated to helping people drive alone less often and enjoy the many benefits of active and shared transportation. She specializes in transportation demand management (TDM), individualized marketing (IM), and other non-infrastructure programs. As a project manager at Alta, she works directly with clients around the country to develop, implement, and evaluate stellar behavior change programs. She is known at Alta for delivering outstanding products and keeping projects on time and on budget. Outside of the office, Cathy enjoys being a multimodal citizen of her community, experiencing each day by foot, bike, bus, and train.
"It has been a pleasure and privilege to work with Cathy. She is very knowledgeable and what I appreciate the most is that she accommodating and willing to work with me when things come up that we didn't expect. All the products were all done in a timely manner."
– Cody Franz, Point2Point Solutions at Lane Transit District
"I have nothing but good things to say about our experience working with Cathy. She kept us informed, she was flexible, she took our feedback seriously, and she always delivered. Alta really worked with us, it never felt like they were just working for us."
– Sheila Parrott, City of Eureka