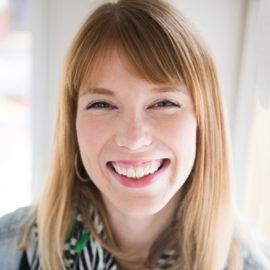 At Alta, our graphic design is more than just aesthetically pleasing 2D designs, it's a way to engage, inspire, and inform the general public. It makes folks curious, invites them to interact, and leaves them with a memorable impression. Through strategic design thinking, we can use design to create meaningful change in our communities.
Biography
Marguerite is a Graphic Designer with a knack for effectively organizing visual information into digestible and pleasing formats. She has delivered creative solutions for clients for a range of projects, including branding and wayfinding, encouragement and outreach programs, and a range of bicycle, pedestrian, trail, and active transportation efforts. For these projects, she has created brochures and promotional materials, public outreach collateral, final plans, and other materials that help disseminate information in graphic-rich and appealing formats.
She received a BID in Industrial & Interaction Design from Syracuse University and recently received a Studio Certificate in Communication Design from the Pacific Northwest College of Art (PNCA).