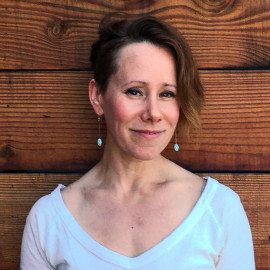 The pursuit of physical fitness for me is both an escape and a way of life. Whether running for miles on trails or charging up a hill on my bike, that's when I am my best self -- focused, powerful, and free. Living in Portland, where I don't have to depend on a car to get around, and where active transportation is celebrated by the community, provides new inspiration. Working as part of the Alta team brings me full circle in my current life pursuits, joining my passion and beliefs with my talents.
Biography
Natalie Lozano brings Alta's mission to life through creative visioning, effective story-telling, and coaching. An expert in marketing for professional service firms, Natalie's focus on thought leadership and communications has enabled the firm to expand in emerging markets and evolve as the market leader in active transportation.
Natalie hails from Manhattan where she worked for ten years as Marketing Director for some of the most successful design firms in the city, including Gensler, Platt Byard Dovell White, and HLW. Now living in Portland, Oregon, and one of the owners of Alta Planning + Design, she is enthusiastic about combining her interest in sustainability, active transportation, and health with her business background.
With a degree in architectural history and East Asian Language Studies from Rutgers University-New Brunswick, she earned recent certifications in global marketing, leadership, and financial accounting from the Thunderbird School of Global Management. She is currently pursuing a Master of Liberal Arts degree in Extension Studies and a graduate certificate in Corporate Sustainability and Innovation from Harvard University.
Natalie's commitment to sustainability is evidenced through her participation in the Oregon Bee Atlas, an Oregon State University grant-funded effort to to build the first comprehensive account of the native bee fauna of Oregon. She is also an Oregon State University Master Gardener committed to regenerative practices in home gardening and backyard habitat design.
Natalie's certification as a strength and conditioning coach empowers others to improve their health and function. She has been featured in fitness articles in Shape Magazine, Blue Cross Blue Shield newsletter, and Experience Life Magazine. Natalie spends her free time moving in many directions via different self-propelled modes: cycling, mountain climbing, and running. She speaks Japanese and is an active member of the Japan-American Society of Oregon.