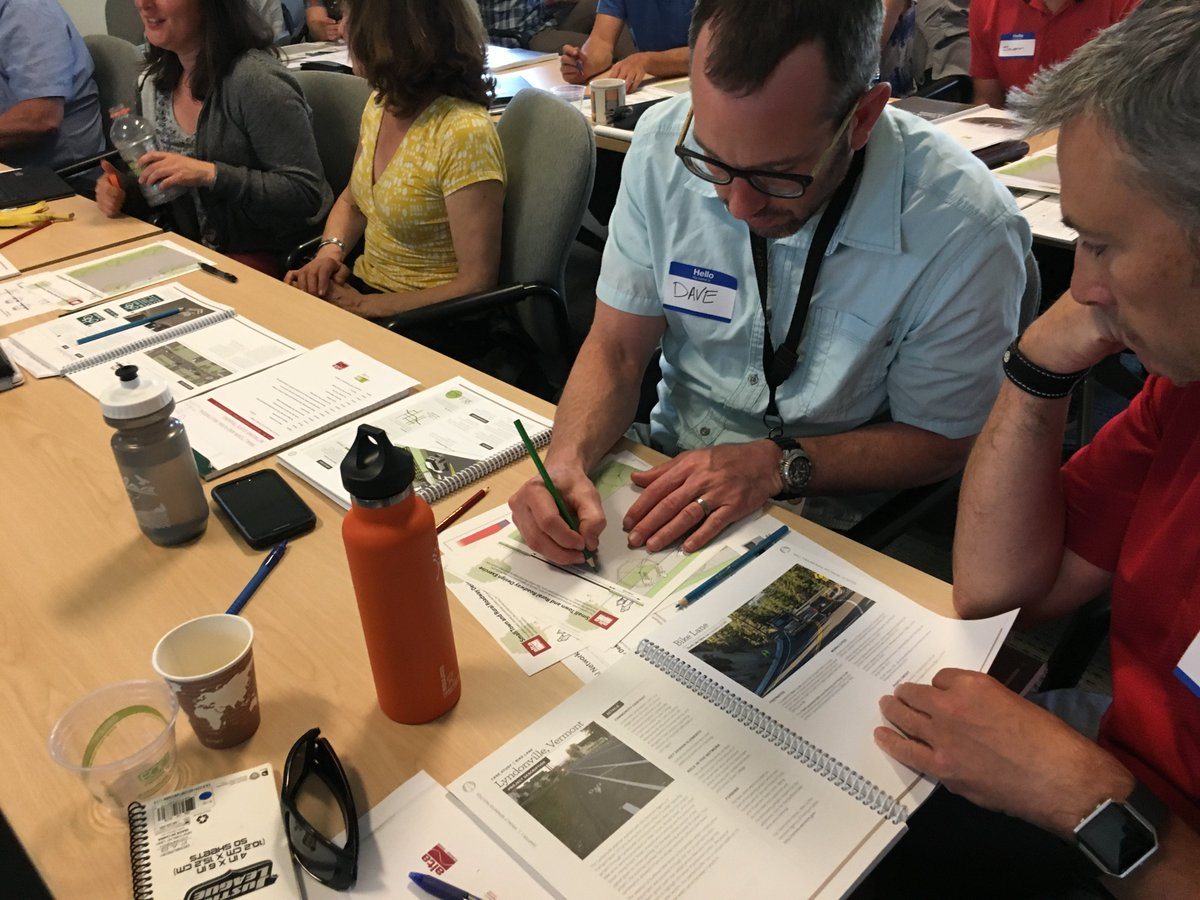 Educating and training are important elements of creating bikeable and walkable communities, empowering public agency staff, stakeholders, and the public with best practices in active transportation. Our staff have led a variety of technical trainings, covering a diverse street design subjects with a bicycle, pedestrian, and active transportation focus.
Alta staff have developed and regularly lead comprehensive training courses and workshops for professionals in local and state departments of transportation, including:
Future Mobility Workshops
Across the country, Alta is leading Future Mobility Workshops and training that strip away the mystique of "new mobility" to identify what is happening in the community today, and articulate the policies, partnerships, and regulations needed to shape a dynamic future that meets communities' goals. Using this proactive approach focuses on locally-determined transportation priorities to develop creative strategies. Connecting existing resources with new solutions is forwarding livability, environmental, economic, and equity goals.
Small Town and Rural Multimodal Networks Guide
Alta's development of the FHWA Small Town and Rural Multimodal Networks Guide as a client to FHWA lends us the expertise to teach the best approach to rural, small town, and suburban active transportation planning and design. Our trainings range from full, multi-day seminars to hour-long workshops and web-based curriculum.
NACTO Urban Bikeway Design Guide and Urban Street Design Guide
Alta, in conjunction with the National Association of CityTransportation Officials (NACTO), offers certified NACTO trainer led workshops on NACTO's Urban Street and Bikeway Design guides. These guides offer a clear vision for Complete Streets and a basic road map for how to bring them to fruition. The workshop includes a review and discussion of topics in Bikeway and Urban Street design. Specific topics covered are selected by the client to build a tailored workshop covering material relevant to the agency's design opportunities and challenges.
National Highway Institute Pedestrian Facility Design and Bicycle Facility Design courses
Alta is delivering training for the NHI courses in Pedestrian Facility Design and Bicycle Facility Design as part of the National Highway Institute's Transportation Planning and Environment program. These trainings provide Federal, State, regional and local transportation agencies with an introduction to bicycle and pedestrian facility design. Using a combination of instructional strategies, such as lectures, facilitated discussions, group exercises, case studies, field trips, and/or participant presentations, the courses introduce available national resources and best practices. They also provide an opportunity for participants to apply this knowledge to specific facility designs in their area.
National Complete Streets Coalition Instructors
The National Complete Streets Coalition through an intensive selection process asked several key Alta staff to be ambassadors for and trainers of Complete Streets so that more communities could experience the great benefits that complete streets can offer. Alta's certified Complete Streets Instructors work with agency staff and decision makers to develop and connect their policies and practices for implementing Complete Streets approaches in their community.
League of American Bicyclists "League Certified Instructors"
Alta's League Cycling Instructors teach classes educate adults and children on how to ride safely and legally, helping them feel more secure about getting on a bike.
National Safe Routes to School Instructors
Community and state SRTS programs, metropolitan planning organizations, health departments, transportation departments, schools, and city governments rely on Alta's Safe Routes to School instructors to teach them how to identify the most appropriate strategies for implementing their SRTS program.
CONTACT US TODAY TO BRING A TRAINING TO YOUR COMMUNITY.